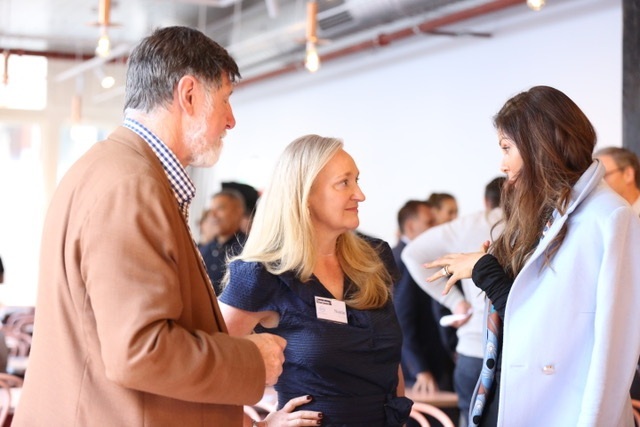 We deliver three things:
inspiration, growth impact and social impact.

We thought you'd find it more relevant to see the results of "what we do" than to read long-winded essays about how many years of experience we have.
Inspired communities can be/do/achieve more than individuals. Always.
When we bring leaders together and connect people with similar values around profit and lead-flow, and when we combine sporting super-stars with young kids who want to change the world forever... the options for making a real difference become inspirational!
We support you to achieve growth.
Are you best able to empower others and to make a difference when your own cup is "half-full" or when it's completely full and overflowing?
In the face of social distancing, we use highly structured systems to create meaningful connections and to facilitate deal-flow. We also share replicable marketing and sales systems so that our members achieve at least 3 x ROI or more.
"Datacom is now bidding for tens of millions of dollars of new business which frankly, we wouldn't have seen without the community building system from Antony and the team."
Scott Green
Former Director Datacom Victoria

"Since we implemented some of Antony Gaddie's sales conversion systems 5 months ago, we've submitted 57 new proposals. All of them have been successful."
Adam Centorrino

Managing Director and Founder, Centorrino Technologies
People who are overflowing with opportunities and profits have more resources at their disposal.
They can spend more time with the people they love and do more of the things they love doing.
They have more options to make a difference in the world.
"I can not thank Jenny Boymal enough for the support and introductions she's provided over the last few months. If you're looking to grow your business, I recommend you chat with Jenny."
Bobby Semple
Founder, Simplified Recruitment Solutions
"The Symphony 7 community is exceptional, engaging and different. We're now connecting at a much more strategic level and we've closed many deals as a direct result of introductions made by one of Symphony 7's Ambassadors."
Tony Sambell
Founder & Managing Director
Spicy Web
"George Giamadakis is an asset and partner to our business. Using George's expertise, we have made significant progress in connecting with new clients. He's a thought leader and he's contributed to our journey for greater success!"
Angela Schmidt
General Manager, Federal Batteries
"The systems and intellectual property which Symphony 7 shared at the CEO institute have achieved some of the highest feedback scores (from the CEOs) in the history of the Institute"
Neville Christie
Founder of New Enterprise Services
Former Chairman at the CEO Institute
"Our Corporate Box sales have increased, our sponsorships have increased and what our business community delivers is unprecedented. If you're thinking about growing your business, I recommend you talk to Antony Gaddie."
Vince Crivelli
CEO, Melbourne United
NBL Basketball Franchise
Businesses that engage in Giving and help to achieve social impact attract more talented staff and do more business deals. Period.
We've partnered with B1G1 (see www.b1g1.com) who have 520+ empowerment projects on the go - all helping to reach the 17 Global Goals (set out by the UN) which must be achieved by 2030!

We've also partnered with MiVote to support their growth. MiVote was founded by Adam Jacoby. They are positively disrupting politics on a global scale, in favour of a purer form of democracy, all underpinned by blockchain technology.
"With support from Symphony 7 and its extended community, organisations like MiVote and other social enterprises around the world are more likely to succeed, and future generations will more likely live in an empowered, more inclusive and more conscious world."
Adam Jacoby
Founder and Chief Steward
MiVote
HOW WE DO IT?

Our methodology is simple and structured:
How do our members benefit?
People who join the Symphony 7 Community do so for 3 reasons:
1.
Connections
Our members all want to connect with people who have similar values and to share connections, relationships and the experience of making a difference.
We make those experiences easy.
2.
Profit Impact
We facilitate new connections in a structured way.
We also share our sales-process and templates with our members to make it easier for them to secure new clients and profits.
3.
Social Impact!
Our values around profit-for-good are transparent and entire business model is structured to facilitate profit and humanity at scale.
Our community members all want to make a real and meaningful difference in the world – even if only from a few small actions each month.